Print
New milk jug with central tube
05 January 2011 by Shaun Lawrence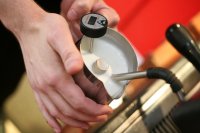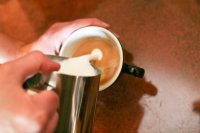 Texture milk every time!
For years the coffee industry has seen great advances in coffee making technology, but virtually none in the critical area of obtaining the correct texture of the milk! This is essential for the perfect Latte, Flat white or Cappuccino.
Light weight & durable
Perfect spout for pouring latte art
Excellent for new or current Barista
Skilled coffee makers known as "baristas" have over the years learned the technique to producing consistant velvety textured milk. Now you can with this new design milk jug with a central tube!
**Just point the steam arm in the milk, place the end of steam arm to the side of the jug. Turn on the steam power, then watch the milk swirl away!!!
Order a milk jug 01246 252832
Print