Print
Sego Bean to Cup
Sego is a fully automatic espresso machine with three canisters. One for coffee beans, One for milk and the other for Hot Chocolate.
The coffee machine can make…

Americano
Latte
Flat White
Cappuccino
Espresso
Espreschoc
Black coffee
Latte macchiato
Moccachino
Hot chocolate
Hot water for Tea


Each of the above options can have their strengths altered to be stronger or weaker, and measures for what is dispensed can also be changed, increasing the ratio of milk or coffee according to how you want your drinks.
Coffee machine overview

brewed with freshly ground coffee beans
Very easy to operate thanks to intuitive touchscreen
Menu with up to 30 choices
Compact footprint
Energy-saving mode
Smart counters — warn you when the waste bin is full and show you the daily/cumulative use
Programmable settings pre-wetting, contact time, coffee to water ratio, and the cup size
Suits perfectly in kitchenettes, offices, hairdressers, pubs and waiting rooms
Unique rotational brewer that's easy to remove and clean


Overall, Sego is maintenance-friendly. The smooth coating prevents clogging within the mixing unit, optimises the flow of instant ingredients and increases the in-cup quality considerably. In addition, the unique hot water system minimises lime scale build-up.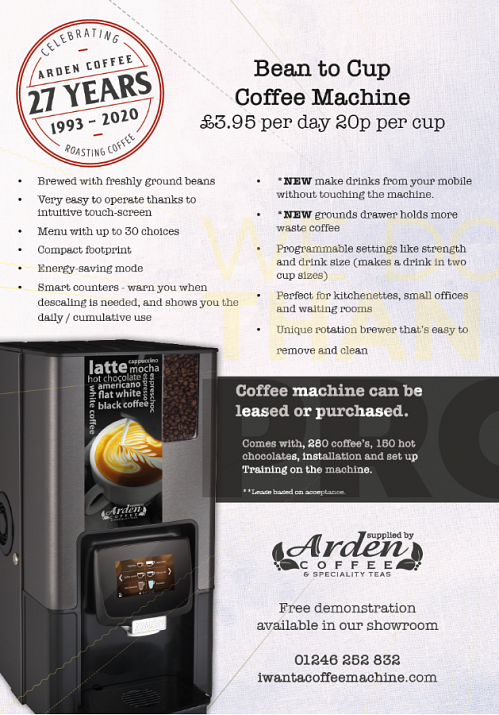 Bean to cup coffee machine
This coffee machine can be Purchased or Leased* from £3.95 +vat per day
01246 252832
Pump set for no water connection areas
This pump set suits locations without a fixed water connection and locations where the tap water is not drinkable. You can use this pump set in combination with a water bottle or tank. The set contains a pump, a hosepipe of 1.30 m and an electrical wire of 1.30 m.
Improved Capacity Waste Drawer Add On
We can now also provide an expanded waste drawer for the Sego bean to cup, which the machine itself sits on top of with the waste dropping through the machine and into this larger drawer below. This is ideal for places where the machine will be receiving a very large amount of usage where having to empty the standard waste drawer size begins to become an issue with the frequency with which it needs to be done.
The installation of this add on is quick and easy and it can make all the difference in certain environments for a machine like this.
Print