Print
Velocino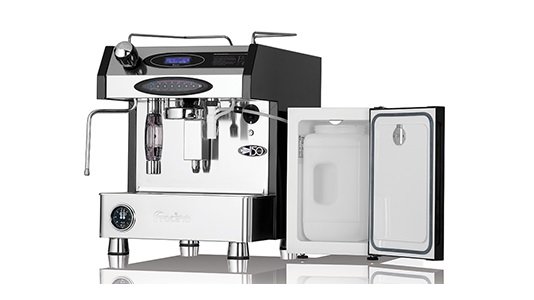 Introducing, the Velocino by Fracino, the state of the art hybrid espresso
machine which pairs the convenience of a bean to cup machine, with the
simplicity of a traditional espresso machine. Manufactured from the highest
quality stainless steel, brass and copper components, it is a reliable and
simple to maintain espresso machine, built to last a life time. This no
nonsense new innovation has been specially designed for sites with a
high staff turnover, ensuring consistent, premium quality drinks each time,
no matter how inexperienced the operator is. Combining the traditional E61
style chrome plated brass group with an automatic milk frother, advanced
programming and an easy to understand control panel, the Velocino allows
you to dispense all espresso based drinks straight into the cup at the
press of a button.
The control panel has been designed to be as simple as possible to use,
with a colour coded system, basic instructions incorporated on the front
panel, tactile switches and high intensity LED indicator lights. The clear and
easy to read LCD display allows for instant feedback on the status of the
machine, minimal operator error and quick and effective staff training.
For added consistency and a cleaner working environment,
modifications can be made to the group to allow for use with ESE
pods or capsules.
A traditional, easy to clean steam tube is fitted to
the left hand side of the machine for the more experienced barista,
or for those who wish to try their hand at foaming and texturing milk
themselves. To prevent untrained staff from adjusting the settings,
the Velocino benefits from a programming menu that is only
accessible via a key.
The Velocino is a truly revolutionary addition to Fracino's
extensive range, which adds a new dimension to the espresso
machine market.
Exceptional coffee just got faster!
Control Panel Control Features Automatically dispenses Espresso, Cappuccino, Latte and
Americano with the press of a single button – minimal staff
training required.
Water, coffee, milk volumes and timings can be programmed
with optional delays to give the perfect consistency and
appearance of drinks, with large and small options.
Automatic heating cycle guarantees that the machine is only
used when at the correct temperature and pressure – ensuring
drinks are of the highest quality.
Automatic cleaning cycles for group and milk frother.
Automatic on/off feature to ensure the machine is only on during
business hours to save energy.
Non splash hot water for Americano and tea, with large and
small options available
We are taking appointments to view the new coffee machine – 01246 252832 Don`t forget we can be available any day time or evening.
Please Click on the images below…
Print